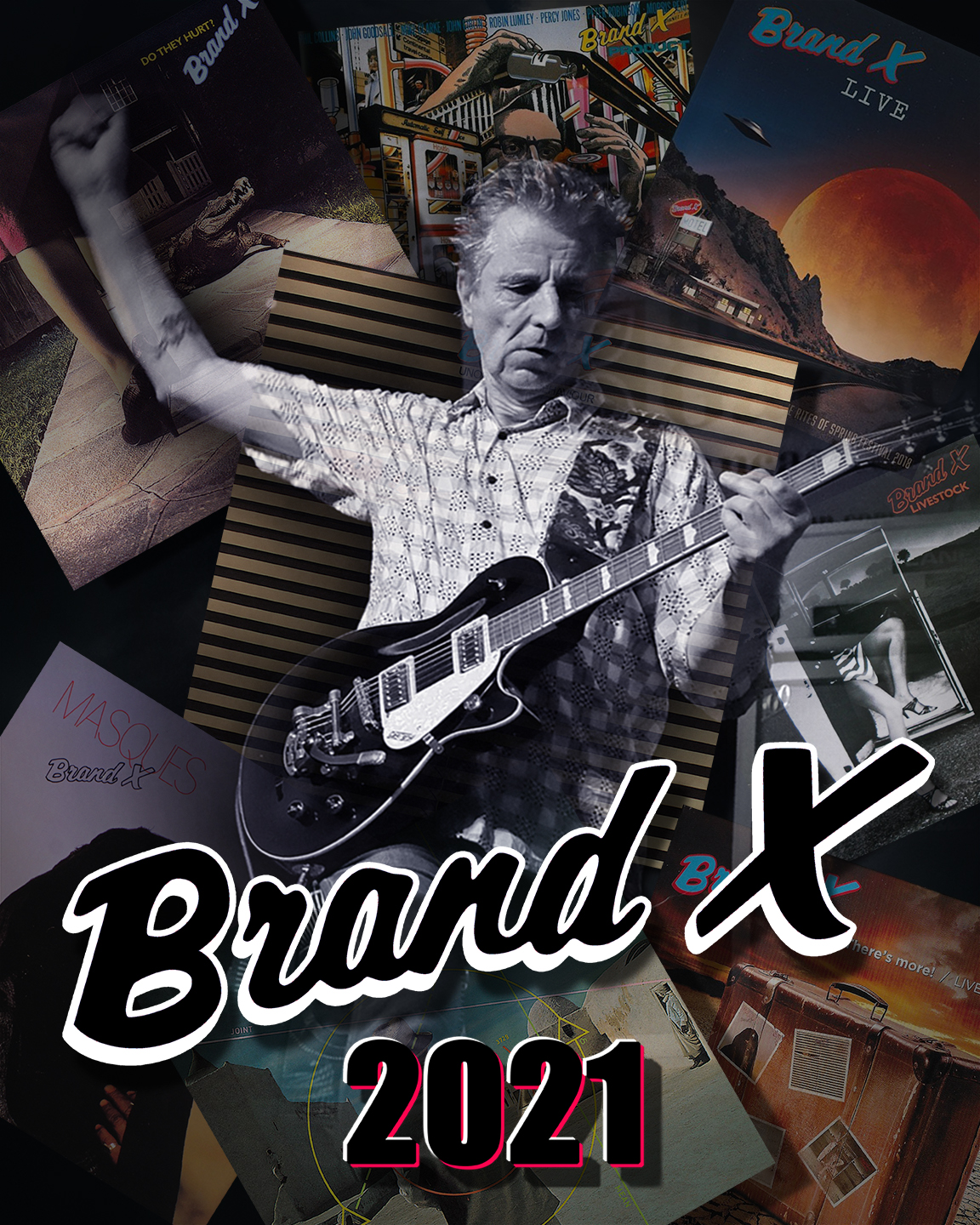 Show | 8pm // Doors | 7pm
$55 Advance / $60 Day of Show
Due to an illness in the band, the Saturday October 22nd 2021 concert with Brand X has been rescheduled to Friday June 10th 2022.  All previously purchased tickets will be honored for the new date.  Refunds are available at point of purchase.  Those who purchased via ETIX – keep your eyes out for an email!
The Return Indoors – This Show will take place Inside at The Kennett Flash!
Proof of Covid19 Vaccination Required to Attend Event.  If you are unable to provide proof of vaccination, a negative PCR Test result within 72 hours will be accepted.

BRAND X are often recognized as musical pioneers —they helped forge an entire musical genre and influenced a broad spectrum of contemporary bands, from Phish to Dream Theater. Brand X were born on probation in England many years ago, and were immediately heralded for their live shows and for having Phil Collins of Genesis as their Drummer. Their old school contemporaries included bands such as Weather Report, Return To Forever, Mahavishnu Orchestra, Chick Corea, Jaco Pastorius, etc. One difference is that BRAND X brought a uniquely English flavor to their writing and arranging, often times credited to Guitarist/Founder John Goodsall. Mix that with the percolating Bass lines of Percy Jones and John Giblin, and the Jazz infused Keyboards of Robin Lumley and Chris Clark, and you've got Brand X. Legendary music Producer Stephen W. Tayler of Real World Studios summed it up: "Complex rhythms bubbling under catchy child-like melodies that you might whistle for days…" 

REUNION TOUR: Since reforming in October of 2016, BRAND X have headlined various Music Festivals, including Prog-Stock (twice), Ros-Fest, Progtober-Fest, and "Cruise To The Edge" where their shows called for a command performance — adding a third show. They also headlined the Longs Park Amphitheater Series in 2018, playing to some 6,000 people.

 Now for October 2021, BRAND X hit the road with a brand new show with some newly written material, and well as never-played classics that fans have been requesting for years. Founder John Goodsall is still shredding on Guitar, coupled with his slightly offensive tongue-in-cheek barbs, along with other BRAND X alumni Chris Clark (Keyboards), Scott Weinberger (Percussion), and Ric Fierabracci (Bass) and Greyson Nekrutman (Drums)


IMPORTANT DISCLAIMER FROM BAND: If you enjoy watching the show half as much as we do playing it, then we've enjoyed it twice as much as you.
John Goodsall:              Guitars
Chirs Clark:                    Keyboards
Ric Fierabracci:            Basses
Scott Weinberger:        Percussion
Greyson Nekrutman:  Drums 
Randy McStine's One Man Extravaganza
Randy McStine is one crafty musician. The acclaimed Songwriter/Guitarist/Vocalist/Bassist broke onto the scene with his band "Lo-Fi Resistance", and soon found himself collaborating with members of King Crimson, Tears For Fears, Porcupine Tree, Kings X, Simon Phillips, Joe Satriani and others. Now he's teamed up with "The Aristocrats" drummer Marco Minnemann for his new band "McStine & Minnemann". Multi-Instrumentalist Nick D'Virgilio joins them for some upcoming live shows. McStine's music casts a broad net, including Progressive, Rock, Pop and Ambient textures. BRAND X are very happy to have him opening some of our shows — just as long as he stays out of our beer…