The Kennett Flash and Hadley Present
Burnt Sugar The Arkestra Chamber
FREE with RSVP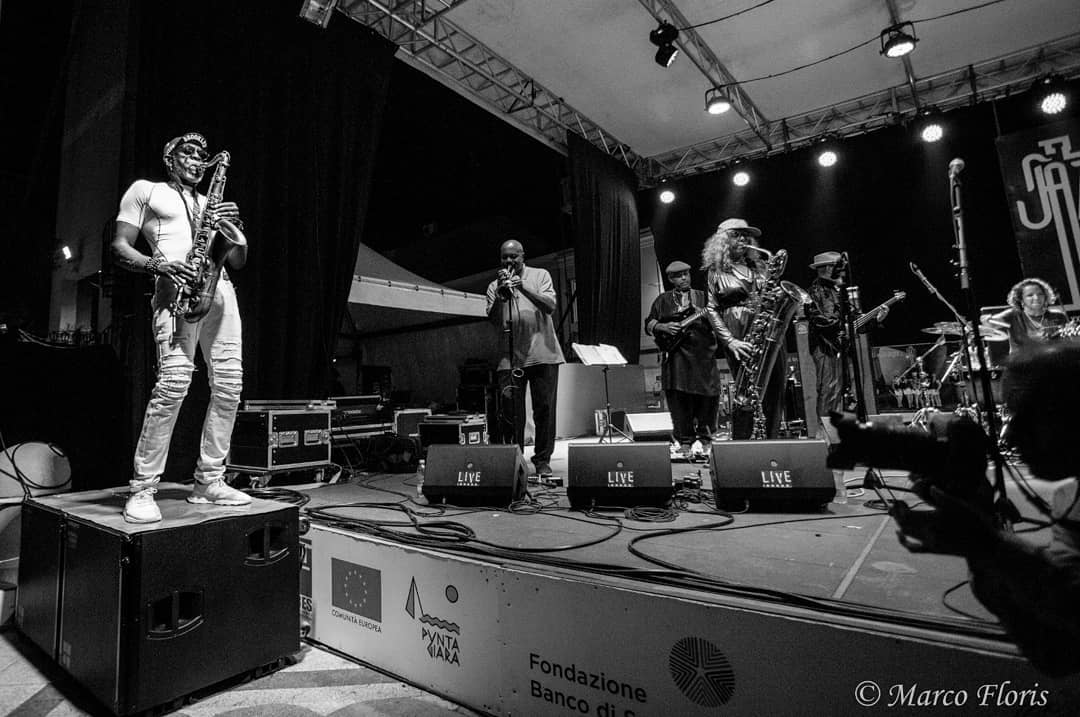 Show | 8pm // Doors | 7pm
RSVP – Will Call Only
2 ticket limit
RSVPs held until 7:45pm – at which time additional parties will be admitted based on capacity
Set #1 – "Any World That I'm Welcome To ~ A Hipster Carnivalesque in Post Soul Vernacular"  & "Groidest Schizznits" Burnt Sugar The Arkestra Chamber mashes the Steely Dan & Burnt Sugar songbooks
Set #2 – "Porgy & Bess The AstroBlack Trapfish Row Variations"
Burnt Sugar The Arkestra Chamber
Founded by Village Voice icon Greg Tate and co-led with Dayton Ohio monster bassist Jared Michael Nickerson since 1999, Burnt Sugar the Arkestra Chamber is a sprawling band of musicians whose prodigious personnel allows them to freely juggle a wide swath of the experimental soul-jazz-hip hop spectrum.
Burnt Sugar was originally conceived as a forum for the New York area improvisational musician to compose, record and perform material which reflects the breadth and depth of American diasparan music in the 21st century. The intent of the Arkestra Chamber, through the deployment of Butch Morris's conduction system, is to make every performance a fresh interpretation of its constituent parts.
Rather than limit ourselves to the straight jackets that the commercial recording industry uses to market contemporary Black Music, Burnt Sugar freely moves amongst many styles, eras and genres to devise its own exciting hybrids.  These hybrids are based on a solid foundation of various musical traditions and the use of cutting-edge music technology.  In this sense the group mission honors its deepest inspirations, the first post-modernists of American music – Duke Ellington, Sun Ra, Parliament Funkadelic and The Art Ensemble of Chicago.
This very accomplished crew has playing credits that range from Cecil Taylor, Charlie Musselwhite, Melvin Van Peebles, Lady Keir, Toshi Reagon, Vernon Reid, Arto Lindsey, DJ Logic, John Paul Bourelly, Gary Lucas, TV On The Radio, Tamar Kali, Mark Ribot, Phish, William Parker, Lizz Wright, The Holmes Brothers, Wadada Leo Smith,  The The, David Murray, Thurston Moore, and Joseph Bowie to let you know.
Arkestra Conductor Greg Tate says, "Burnt Sugar got the nerve to claim Sly Stone, Morton Feldman,  Billie Holiday, Jimi Hendrix and Jean Luc Ponty as progenitors. Our player-ranks  include known Irish fiddlers, AACM refugees, Afro-punk rejects, unrepentant beboppers, feminist rappers, jitterbugging doowoppers, frankly loud funk-a-teers and rodeo stars of the digital divide."
HADLEY
Over 100 years ago, Charles C. Hadley created a gift that keeps on giving.
In his will, Charles directed that earnings from the Theodore D. & Elizabeth A. Hadley Fund, under the care of Kennett Friends Meeting & the Philadelphia Ethical Society, be used for the civic betterment, social welfare & education of the people of Kennett Square, PA and the surrounding country or whoever may care to avail themselves of an opportunity to learn and be entertained by a course of lectures and lighter attraction.
Charles was clear that admission to HADLEY events should be FREE. 
HADLEY PROGRAMS HIGHLIGHT
+ Progressive values including diversity, inclusion, civil rights & social justice
+ Arts, culture & history, to broaden horizons, honor creativity & provide context
+ Environmental health & sustainability